22nd Annual California CUPA Training Conference
THEME: "2020: PERFECTING OUR VISION"
DATES: Feb 3rd thru Feb 6th, 2020
My 2020 Annual Conference Itinerary | My Course History (To View My CEU Certificates)
Where: Hyatt Regency, San Francisco Airport, 1333 Bayshore Highway, Burlingame, CA 94010, Phone: 650-347-1234 or 800-233-1234, GROUP / Block: Cal CUPA, Reserve by: January 3, 2020, book early before they sell out. Overflow hotels are listed below. Please make hotel accommodations early and directly by phone or online at: https://www.hyatt.com/en-US/group-booking/SFOBU/G-CUPF. Guest room accommodation rates are $199.00/night plus tax. The Hyatt Regency will accept reservations based on room and rate availability, so please reserve your room early. Parking fee is $15 per day.
Main Conference Info
Exhibitor Info
Student Info
Sponsor Info
Hotel Info
Overflow Hotel Option:

1. Crowne Plaza Hotel, San Francisco International Airport, 1177 Airport Blvd., Burlingame, CA 94010 - CUPA Block rate $231 - Book Your Room (Cut-off date for group block is the 18th of January 2020)

2. DoubleTree by Hilton Hotel San Francisco Airport, 835 Airport Blvd., Burlingame, California, 94010-9949, (650) 373-2221 - CUPA Block rate $195/night - Book Your Room - Group Code: "ccp" (The night of Feb 4th is SOLD OUT.)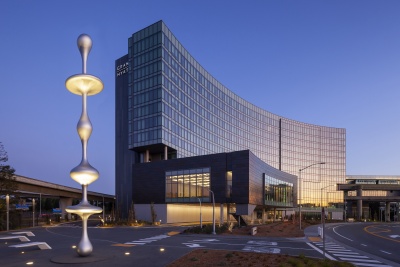 3. Brand NEW Hyatt Grand - To Book a Reservation please call 650-452-1234 OR 877-803-7534 BY January 17th 2020 and request the "CUPA" $199 rate, $15 parking and free shuttle service. You may also register online at the CUPA Conference reservation website - https://www.hyatt.com/en-US/group-booking/SFOGH/G-CALC



When: Feb 3rd thru Feb 6th, 2020

Who Should Attend?: Local, State, Federal, environmental health, HAZMAT and Fire HAZMAT agencies, industry, environmental consultants, organizations, public officials, students and academia and exhibitors welcome.
Earn CEUs (REHS/ICC) at this year's conference...here's how...

Conference Tips:
1. To view your various conference assignments and Sessions Schedule, simply view your personal Itinerary/Schedule by "printing it" to your screen.
2. Session Volunteer Monitors: Review these Volunteer Instructions. Review the Check in/out process before the conference starts so you are ready to earn your CEUs and complete your REQUIRED Volunteer assignment (IF YOU RECEIVED A SCHOLARSHIP). Arrive 20 minutes at the CUPA Kiosk to "Check In" and to receive instructions/materials.
3. Non-Session Volunteer Assignments – If you are helping with Setup, Tear Down, Security, Golf, Kiosk or other assignments listed on the Volunteers Page (view your assignment on this page as well as enter your Check in/Check out codes provided by your volunteer leader at the beginning and end of your assignment).
4. Make sure you get lunch - you must add your lunch selection options to your Itinerary ASAP so we can get an accuarate lunch count.
5. Sneak Peak - View Speaker Presentations and Speaker Bios BEFORE you attend their Session to help you prepare.

FIVE Session Tours Available - $25 per Tour, limit of 2 per agency, first come first served AND must be registered for the entire conference. No refunds after January 17, 2020. ALL Tours are currently SOLD OUT. To pay for your Tour, CLICK HERE. TOUR INFORMATION. NOTE: Each Bus loads 15 minutes before departure...be on time. Tours include visits to:
- ANCHOR STEAM BREWERY (Mon & Wed)(FULL)
- JLABS TOUR (Wed)(FULL)
- CARBON 3D (Tues)(FULL)
- STANFORD LINEAR ACCELERATOR (SLAC) TOUR (Tues)(FULL) - Must Take Bus
SUNDAY PRE-CONFERENCE ACTIVITIES - JOIN US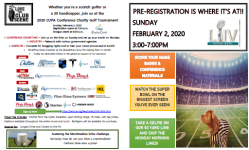 Super Bowl Party Sunday, February 02, 2020 at 3pm at the Conference Hotel - Hyatt Regency, San Francisco Airport - More Information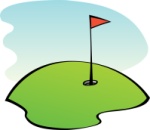 Charity Golf Tournament, Sunday, February 02, 2020 at 9am - This golf tournament is a fundraiser to support the ongoing recovery from the deadliest wildfire in California History, The Camp Fire in Butte County...this is your chance to have some fun and support a GREAT cause...get your foursome together today - More Information

This conference provides training in subjects related to enhancing the Unified Program implementation and improving consistency and coordination between the 81 CUPAs and 24 participating agencies (PAs) throughout California. To attend the training conference, pay GOVT or NON-GOVT fees online, or apply for a scholarship...follow the on screen directions.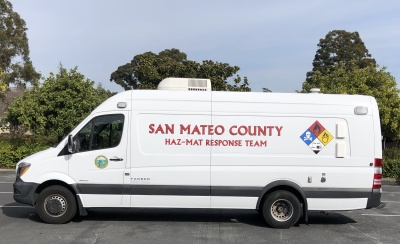 San Mateo County Haz Mat Team's emergency response vehicles will have an open display on Wed. 2/5 from 7:30-5pm - The big red truck was custom-built by Emergency Vehicles, Inc. in Lake Park Florida, is staffed by San Mateo Consolidated Fire Department, and the white Freightliner 3500 Sprinter Van is staffed by San Mateo County Environmental Health.




This vehicle, the CalOES Static Display Truck from Seaside Fire Dept, will be on display and available on the following dates/times for viewing:

- February 4th 12-5pm
- February 5th 7:30am-5pm

The contact for Seaside FD regarding the Cal OES Rig is Chris Schnute at cschnute@ci.seaside.ca.us.

The overall length of the Cal OES Type II Haz Mat vehicles is approximately 38'.
2023 In-Person Conference | 2022 Virtual Conference | 2021 Virtual Conference | 2020 | 2019