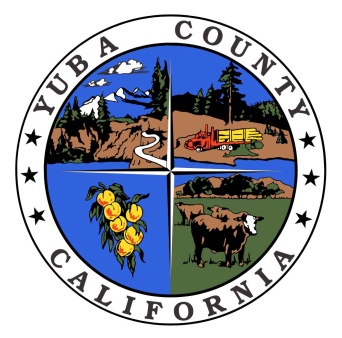 915 8th Street, Suite 123 Marysville, CA 95901
1-530-749-5450
California is made up of 58 counties each one unique in their own way. Yuba County is a small rural county just north of the state capital of Sacramento. Yuba may be small, it is the 5th smallest county in the state, but Yuba certainly has its own personality. Yuba County has a thriving agriculture industry, affordable housing, excellent recreational opportunities and first-rate schools. Yuba is also the most biodiverse county in the contiguous United States with thousands of native plant species. Named after the Yuba river and home to vast rice fields and fruit orchards this little county is a hidden jewel. With a total population of 79,000 Yuba county has the spacious country feel that appeals to many.

We wanted to learn a little about the Countys CUPA agency so I ZOOMED into Yuba and had a chance to talk to Clark Pickell the Director of Environmental Health and Gary Cantwell the CUPA Program Supervisor. Clark and Gary have been working together for over 15 years and this CUPA is in good hands. The Yuba County Department of Environmental Health has a staff of ten and is responsible for all of the traditional environmental health programs plus the CUPA regulatory program. The Yuba CUPA has 2 primary staff members and 5 staff certified for USTs and APSA. The inventory includes 532 permitted sites, 40 tanks and 4 Cal ARP facilities. The Yuba CUPA has been a shining example of what the CUPA model is all about providing outreach and education and compliance assistance to local businesses while regularly meeting their annual inspection goals.

Rural CUPA agencies have their own set of challenges with a smaller inventory that is spread out over a larger area than urban CUPAs. The Yuba CUPA is totally fee supported their challenge is following up on their Return to Compliance notifications issued for minor violations. Typically, the facilities actually do comply but many fail to return the notice requiring follow up by the inspector to verify compliance and this takes time. The other drain on resources is enforcement which always takes time, thankfully the Yuba staffs education-based approach has improved compliance and reduced the demand for formal compliance. The California Environmental Reporting System (CERS) has impacted them and although the data collection and tracking is important it does takes staff out of the field, sacrificing some level of public safety. Another challenge for all CUPAs but particularly smaller agencies is the evaluation process. The evaluation process is an important element of the Unified Program intended to improve consistency, coordination and compliance. Unfortunately responding to the evaluation, providing updates and updating the required ordinance and code changes is a drain on valuable staff time that is difficult for these small agencies to absorb, rural agencies are typically pretty lean on administration staff.

Compounding the drain on staff time are the statewide wildfires that have become the new and scary norm. Like many counties Yuba provides staff to assist with evaluation and clean-up of the debris from burned structures. Over each of the past three years Yuba has donated significant staff time to other affected counties. The California CUPA Forum relies on participation from CUPAs statewide and no CUPA is more active than Yuba county. Gary is a member of the current Forum board, a conference planner and former presenter, student day coordinator and the Northern California UST chair. Clark was a longtime CUPA Forum Board member, past Forum Board Chair and is the current CCDEH Region 1 Chair and is on their Haz Mat, I.T. and Emergency response committees. Yuba county has had a member on the CUPA Forum board since 2005 making significant contributions and always communicating the rural county issues. Clark led the effort to develop the Integrated Standardized Checklists that helped so many CUPA agencies. That is exactly what makes the CUPA Forum so unique, CUPA agencies around the state sacrificing time for the greater good. As Clark knows, this participation pays off in training opportunities, funding and also the significant changes that result from the unified approach the Forum makes possible. Together the local agencies have a louder voice and can more effectively bring about change.

All of this statewide activity does pay dividends, the CUPA Forum helps to connect regulators from every CUPA in the state enabling critical networking. Networking allows agencies to share what they learn, provide templates, policies and innovative ideas. Yuba County has often relied on their neighbor to the South or as Clark said their Big brother. As a large urban CUPA Sacramento County has more staff and has always been there to help whether its to provide forms, plans or ideas. Recently Gary went to Colusa County to help them with new inspector training, this was made possible by the CUPA Forum Trust, check it out if you are a rural county that needs help at https://calcupa.org/rural-training-assistance/index.html . This is what CUPAs are all about, helping each other whether it is during emergencies or day to day issues, big and small agencies lending a hand to each other to improve statewide implementation of a complicated program.

One of the major reasons that the CUPA regulatory model is so successful is the connection local agencies have to the community. Local staff are a part of the community and they know what works. In addition to their CUPA Forum and CCDEH activity, this dynamic duo also meet regularly with their businesses, are on the Yuba Sutter Hazardous Materials Response team Operations committee and chair the region III LEPC. The staff at Yuba county exemplify commitment to their community, Gary is a graduate of Chico State and still goes back to let students know that Health inspectors are also the Haz Mat regulators. Gary also spreads the word at Junior Colleges and high schools in an effort to get the best young minds to consider the Unified Program and Environmental Health as a career choice. Obviously this explains why everyone in the office the day we spoke was a Chico State graduate, attracting locally based staff with deep connections to the community is a key to this CUPAs success.
Yuba County may be small geographically but they have had large voice in helping shape the CUPA program statewide. Clark and Gary care about the community they live in and constantly strive to improve the way the CUPA program is delivered. So next time you are in Sacramento take a drive north and experience what Yuba County has to offer, you will not be disappointed.